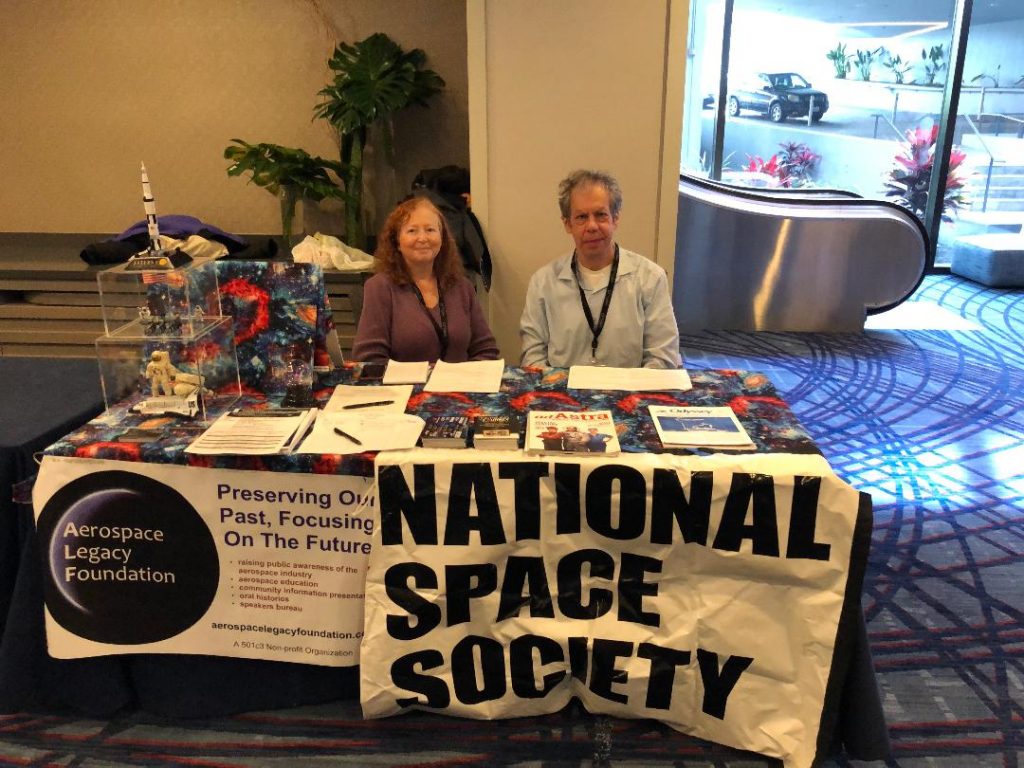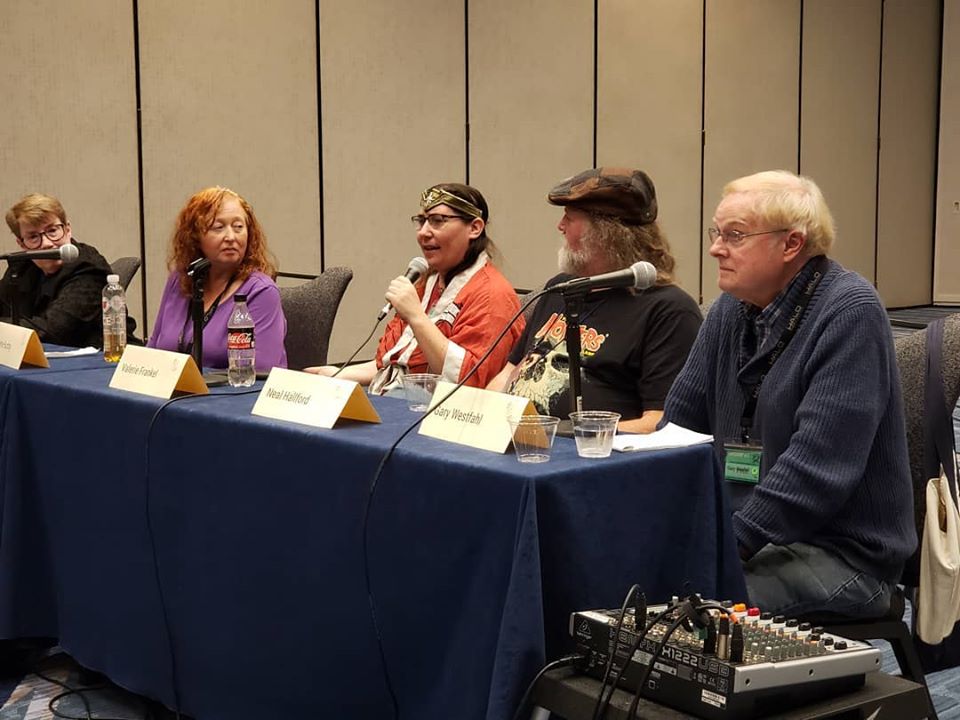 TOP From left: Arlene Busby, Seth Potter
BOTTOM From left: Kathryn Sullivan, Arlene Busby, Valerie Frankel, Neal Hallford, Gary Westfahl
This fall, OASIS continued their tradition of participation in the Los Angeles Science Fiction Convention. LosCon 46 took place on November 29-December 1, 2019 at the Marriott Los Angeles Airport Hotel. OASIS has a long history with LosCon, providing panelists to a wide variety of tracks and meeting the other guests at their fan table. This year, OASIS shared a fan table with the Aerospace Legacy Foundation (http://aerospacelegacyfoundation.com/), which promotes and preserves the history of aerospace in California while looking to its future.
Dr. Seth Potter, OASIS Chapter President, was very busy participating in several panels at LosCon, and in fact was the moderator for two of them. In "The Moon, Mars, Asteroids: When, Why, and How?" the panel discussed these bodies as manned mission targets in the near, medium, and farther future, and also discussed the possible technologies that could get us there. Along with Potter, the panelists were Timothy Cassidy-Curtis (engineer), Robert Gounley (NASA-JPL), and Sandra Stoller (Aerojet Rocketdyne).  Potter was also the moderator for "Class M Planets: Exoplanet Discoveries," for which the panel also consisted of Dr. Ashish Mahabal (Caltech/JPL) and Lenny Dorsky (JPL).
In "No Tow Truck Beyond Mars," the panelists discussed how we go boldly where there's no one around to fix things. They told stories from the trenches of the heartbreaks, close calls, and adventures of real-life solar system exploration. David Rosing (JPL) was the moderator, with panelists Potter, Ashley Stroupe (JPL), Kim Steadman (JPL) and Cassidy-Curtis.
In "The New Views of the Universe: Extra Dimensions, Dark Matter and Cosmic Adventures," Potter was a panelist along with Dr. James C. Glass (Science Fiction & Fantasy Writers of America) (moderator), Sean Carroll (Caltech), Gregory Benford (University of California at Irvine), and Dr. Mahabal (Caltech/JPL).
Arlene Busby, who serves as Aerospace Legacy Foundation President and OASIS Membership Chair, has a long and rich history with LosCon, serving in various capacities over the years. She was the conference chair of LosCon 38 and programming chair at several other conventions, and served as a speaker/panelist many times over. She is also the conference chair of OuteRimCon, a convention that unites science fiction with science and STEM education, which took place for the first time in October 2017, and will take place again in February 2020. Keep your eyes on the OASIS website and on https://outerimcon.com/ for further developments!
Busby was a panelist on "All Things Doctor Who" along with Gary Westfahl (science fiction author, Professor Emeritus at the University of La Verne), Neal Hallford (Swords & Circuitry Studios), Valerie Frankel (Mission College, SJCC), and Kathryn Sullivan (author).  They talked about their favorite episodes, favorite Doctors, favorite villains, favorite sayings, the current Doctor, and some of the episodes from season 11 of the new Doctor.
Thanks to Craig Rogers and Curt Steindler and the rest of the OASIS volunteers! Apologies if any volunteer names were missed – they will be added.