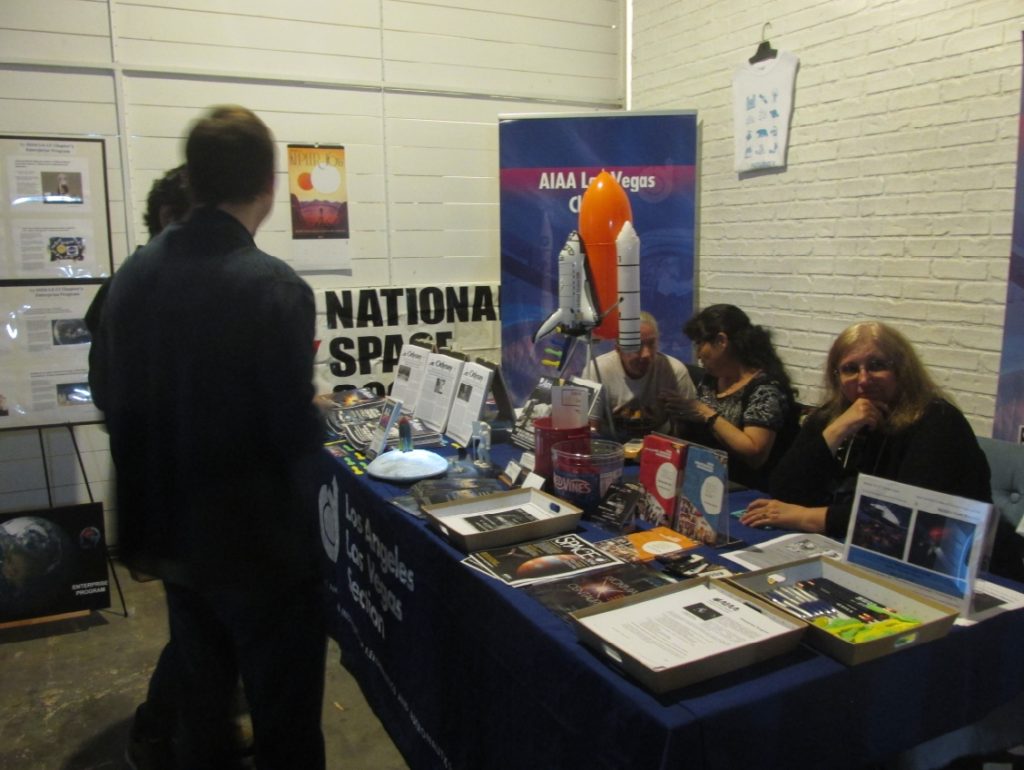 On May 14, OASIS, Three Dimensional Science Learning and the American Institute of Aeronautics and Astronautics, Los Angeles-Las Vegas Section co-sponsored "Harley Cortez: The Artist as Spaceman," a meeting of the artist and space science communities. Over the course of the evening, artists and scientists found that they had more in common than previously realized. They share a love and enthusiasm for their work, and see its beauty.  The photo shows the OASIS and AIAA-shared table. Left to right behind the table: OASIS member Gareth Powell, OASIS vice president and AIAA LA-LV newsletter editor Lisa Kaspin-Powell, AIAA LA-LV Programs Co-Chair Dana Puschell.
The festivities were hosted at The Paper Agency Art Gallery, a creative art collective in downtown Los Angeles.
A crowd that united the art and the science communities welcomed an interactive space science panel: Dr. Nahum Melamed (Aerospace Corporation: Planetary Defense from Asteroids); Ms. Andrea Diamond (Executive Vice President of Education, STEAM Enrichment Inc., NASA Certified Educator); Mr. Dennis Wonica (President/Owner, LaserLight Networks Inc.; Chair, AIAA Los Angeles-Las Vegas Enterprise Program). Moderator: Mr. Harley Cortez. Master of Ceremonies: Mr. Rick Garcia (Membership Co-Chair, AIAA Los Angeles-Las Vegas Section). Cody Comrie, pictured at the far right, is partner at The Paper Agency along with Dave Frey.
The art and science communities are saddened to announce the passing of The Paper Agency owner and founder Dave Frey, a conceptual designer and artist. Dave and his team worked selflessly and tirelessly to make "Harley Cortez – The Poet as Spaceman" a collaborative event between the AIAA LA-LV section and NSS-OASIS; as the first-of-its-kind STEAM event in Downtown Los Angeles, the evening's programming was a brilliant success. Dave and his gallery team put forth tremendous effort in providing key architectural support in gallery space, painting, hammering, building, cleaning, offering technology hardware and software logistics in bringing together the art and science communities under one roof on the night on May 14, 2016. It is interesting to note that this event also happened to coincide with National Astronomy Day. The energy was social, open and electric in a community merging two amazing communities. The evening agenda covered everything from conversations between art and science with an interpretive discussion panel, technical discussions by Dr. Nahum Melamed on Near Earth Objects – Asteroids and even a presentation by famed Dr. Jeff Puschell on satellite earth mapping and global perspectives on climate change. Dave and the AIAA LA-LV team were in the midst of discussing future collaborative gallery projects on a MARS art and music theme tribute event (David Bowie, SPACEFACE animation film and dedicated technical presentations on MARS). Having worked with Dave, we are at a huge loss; however, we know that he would have loved for the show to continue. To continue such events will only be a fitting way to honor Dave's memory and further details are planned. For more information please contact Rick Garcia of the AIAA LA-LV section: rickpositive76 [at] yahoo [dot] com.