Getting the Word Out
Science Fiction Conventions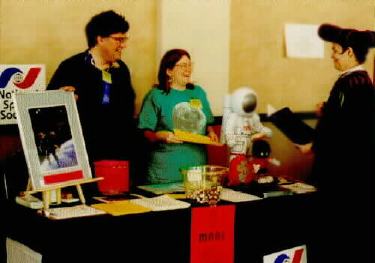 HERE COMES DA JUDGE!
Proving that not only is space fun and exciting, but a great new legal frontier, OASIS members Robert Gounley and Diane Rhodes discuss planetary mineral rights with Judge Frollo, from Disney's Hunchback of Notre Dame, at the 1996 LosCon.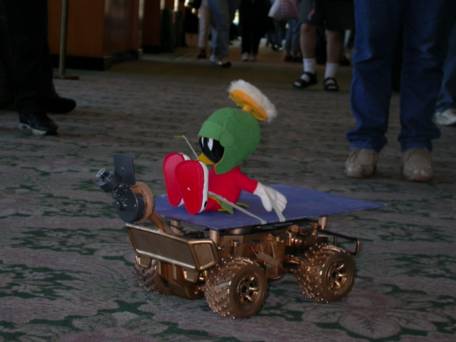 Marvin the Martian on Mars Rover mockup, LosCon 2002. Photograph courtesy Steve Bartlett.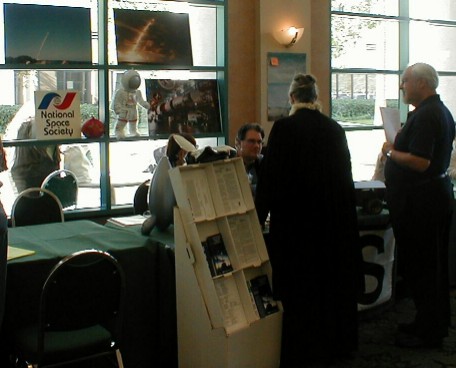 2002 LosCon table. Photograph courtesy Steve Bartlett.
OASIS provides science programming at area science fiction conventions. Here are more photogrpahs and some articles about these activities.
You can also find more articles and references at the Search page. Use the string "+science fiction" (without the quotes).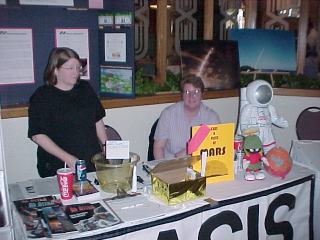 Diane Rhodes and Pam Hoffman at the OASIS table at the Gallifrey One convention. Photography courtesy Craig Ward.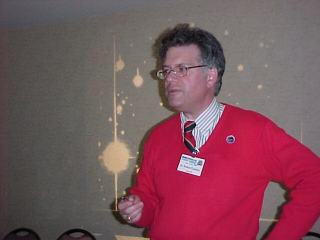 Robert Gounley giving a lecture on Deep Space 1. Photograph courtesy Craig Ward.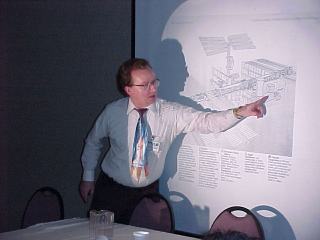 Steve Bartlett making a presentation about the International Space Station. Photograph courtesy Craig Ward.
Working Air Shows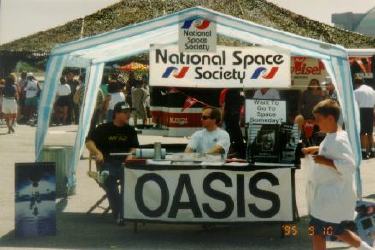 OASIS & OCSS Booth at El Toro Air Show
When the opportunity presents itself, we join forces with other NSS chapters in the area. This booth was staffed by OASIS members and members of the Orange County Space Society.