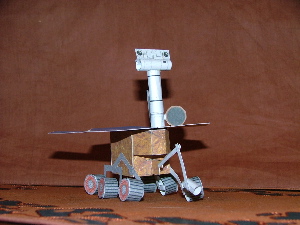 Prototype model from paper cut-outs. Photograph courtesy Craig Ward.
Mars Exploration Rover Model Project Update:
A First Look
While Spirit and Opportunity have been busy exploring the Martian surface, Steve Bartlett has been hard at work constructing a quarter-scale model of the MER. This rover model features an articulated antenna, hinged solar panel sections, and a moving arm. Amazing what can be done with plywood, PVC pipe and fiberglass, isn't it?
Steve started preparing for this part of the project, which is a practice run for the full scale version, by constructing a paper model. You can find the plans for building your own paper MER at http://www.lansbergen.net. (See photo above.)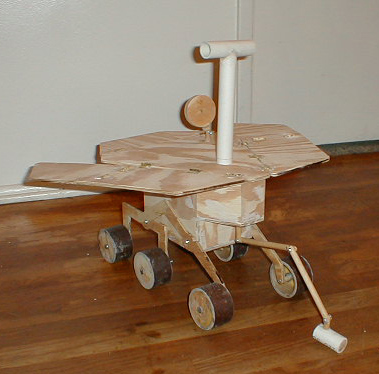 Unpainted wood model. Photograph courtesy Steve Bartlett.
When this quarter-scale model is completed we will start working on our full-size model.
The full-size model will be remote controlled and able to roll for short distances. The concept includes videocameras and an articulated arm similar to that on the actual rovers. We will be taking the model to schools, lectures, and public events to help us publicize space activities. We need volunteers to help with the design, construction, and wiring of the model. This is a labor intensive project, and we need your help! E-mail us to volunteer.
For more photos of the model, see Gallery page.