A Personal Tour: OASIS Exclusive Private Tour of JPL Pasadena
by Gregory Slaughter
The difference was twenty thousand versus five. Twenty thousand people crowded together on the typical JPL open house day in typically hot May weather. All trying to see the exhibits, standing in lines to see the most popular sites and people, people, people crowded together.
The better option was a private tour for a small group of space enthusiasts hosted by Bob Grounley. Bob gave up his Saturday to host morning and afternoon private JPL tours for those signed up through OASIS. Each tour lasted about three hours in a leisurely manner which was fact-filled as well as being highly informative. We were able to tour several areas that are off- limits to the general public. We also had the opportunity to spend time at the various JPL sites and take unhurried photographs as well as ask questions.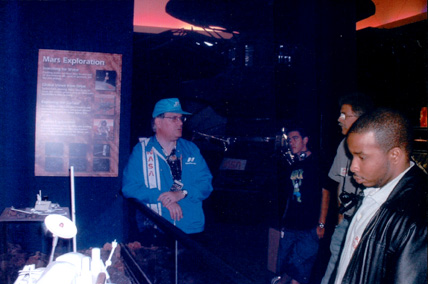 Bob Gounley leading one of the private OASIS tours at JPL
The value of Bob's private JPL tour was priceless. Bob was enthusiastic about his job and the JPL family. His enthusiam bubbled over to the tour group. As we were walking near one of the outer buildings, Bob pointed out that we had walked the approximate range of the current Mars rovers. This highlighted to us the working range of the rovers.
If this private tour is offered again, jump at the chance and sign-up. Otherwise, you'll stand shoulder to shoulder with twenty thousand other explorers and see a lot less with long lines, hot weather, and people, people, people.