Search this Site
Upcoming Events & Ongoing Projects
Special OASIS visit to XCOR
We'll be going to XCOR's Mojave facility sometime early in the year. OASIS members only. Guests may be permitted depending on interest. Requires advance signup, and we need a headcount ASAP, so let us know if you're interested in going. OASIS MEMBERS ONLY!
Special OASIS visit to SeaLaunch
SeaLaunch has its Home Port in Long Beach, California. They've generously offered to fit us into their busy schedule for a members only trip. You must be a U.S. CITIZENS to tour the facility. Requires advance signup, and we need a headcount ASAP as space for this one is limited. Check out their facilities online at http://www.sea-launch.com/slfacilities.htm. OASIS MEMBERS ONLY!
Letter Writing Campaign
At the December OASIS Business Meeting, we will be having a letter-writing event. Bring stationery and stamps! Also, there will be an Open House and Year-end Potluck Party. Let us know what you'll be bringing.

Mars Exploration Rover (MER) Model Construction Project: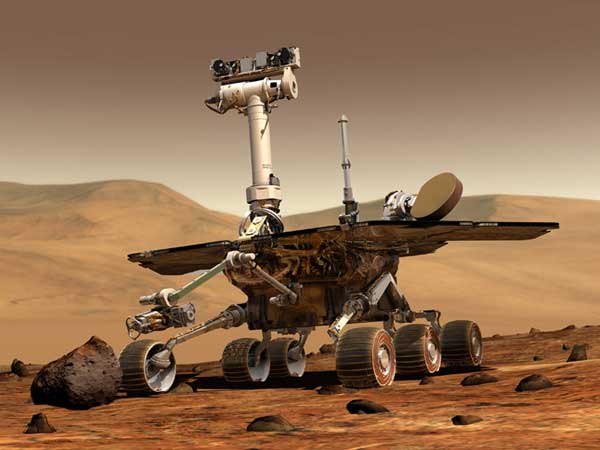 Artist's conception of MER rover Opportunity. NASA/JPL
We have preliminary photos of the Rover that we're studying for size and scope.
We will be constructing a full-size model of the rovers now en route to the Red Planet. The model will be remote controlled and able to roll for short distances. The concept includes videocameras and an articulated arm similar to that on the actual rovers. We will be taking the model to schools, lectures, and public events to help us publicize space activities. We need volunteers to help with the design, construction, and wiring of the model.