Odyssey June 2002 -- Editor: Kris Cerone
Inspiring Young Space Explorers:
OASIS at SCOUTBLAST 2002
By Steve Bartlett
OASIS volunteers helped to inspire a future generation of space explorers at the Scoutblast 2002 gathering over May 17-19. Thousands of Boy Scouts met at the annual event in Jacksonville, Florida, with many of them working on their space exploration merit badges.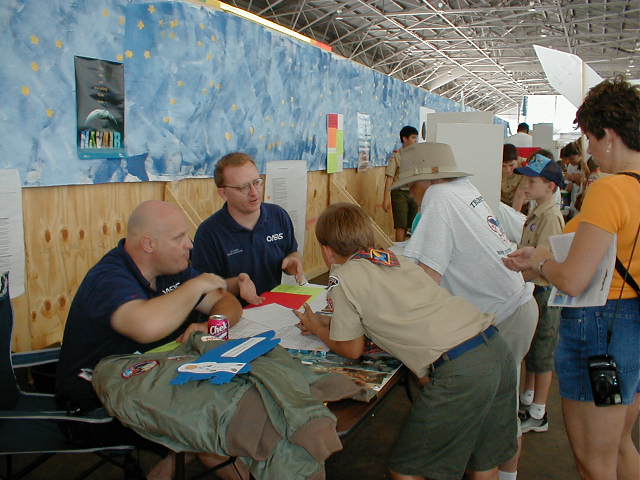 OASIS volunteers Bill Ernoehazy and Steve Bartlett talk to scouts about space careers. Photo courtesy Steve Bartlett.
The young people participated in several space activities, including building and launching rockets, studying space history, learning about the solar system, designing their own space stations, and discovering possible careers in the space field. Local Boy Scout Troop 182 built a seventy-foot long display booth for the event with rockets at the entryway and separate stations to meet each requirement for the merit badge.
Members of the troop invited OASIS to support the event by providing industry professionals to talk about space jobs and to assist the scouts with their spacecraft and space station design activities. The NSS volunteers worked with hundreds of young people and their parents, describing the many career opportunities in the space field, reviewing a myriad of possible space station configurations, showing off space hardware, and answering questions. The scouts showed considerable imagination, creativity, and insight into how things worked in space.
The entryway for the Space Exploration booth at Scoutblast 2002. Photo courtesy Steve Bartlett.
The booth featured OASIS-provided handouts including bumper stickers and posters. Microcosm, Inc. provided a generous supply of posters for the enthusiastic scouts.
The event was held at a decommissioned military base outside of Jacksonville. The scouts used an aircraft hangar for the troop displays. Rocket launches took place outside the hangar near the runway.
NOTE: OASIS can provide speakers and other support on a variety of space-related topics to requesting organizations. Please contact the OASIS email address NSSofLA@yahoo.com for requests and for more information.