Selected Articles from the
August 1999 Odyssey
Editor: Craig E. Ward
---
by Robert Gounley
Space can be a serious business.
It's an unfriendly place that demands our best. Break its rules, whether by ignorance or carelessness, and a spaceship may fail and men can die.
This makes people serious.
Space is also a place of inestimable opportunities - scientific, economic, and inspirational. We each have our own goals, and sometimes they collide with the goals of others. More often, there appear to be a multitude of paths towards these goals, each their own ardent proponents. The stakes are high and the emotions charged.
This can make people serious, also.
That's why I'm sad at the sudden loss of astronaut Charles "Pete" Conrad. If you take a cursory look at his career - pilot, astronaut, and entrepreneur - one sees only the serious side. That isn't what made Pete special. Pete could laugh at himself and at adversity. Everyone who knew him speaks of his smiles, jokes, and infectious laughter. This serious man was the court jester of space.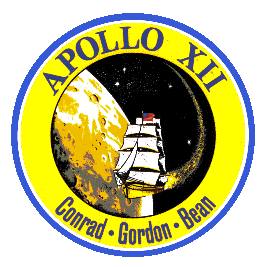 Gentle mockery was his trademark. As recounted in Tom Wolfe's book, The Right Stuff, Pete had some difficulties during medical exams for the Mercury program. He knew his selection depended upon appearing the picture of perfect health and doing everything the good doctors asked. His mind was set, yet his body did not cooperate. When asked to produce stool samples, poor Pete waited for days as his intestinal tract deliberated the request. When finally he had something to deliver, a Dixie cup alone would not suffice. To the astonishment of the medical staff, he delivered his late-coming sample garnished with a red ribbon.
Yet schoolboy pranks did not define the man. In four space missions, he proved himself an astronaut's astronaut. Landing Apollo 12 on the Moon, demanded a highly trained professional. Pete did it and laughed. Taking his first step off the Lunar Module, he made no speech for the ages. Instead, he shouted "Whoopee!" and joked about it being not the small step Neil Armstrong talked about. After the solemnity of Apollo 11, viewers around the world saw lunar exploration for the adventure it is. We loved Pete for putting aside the hard work it took to get there and show us that it really is neat to walk on the Moon. We wanted to follow.
Most of us still do.
Fortune and tenacity willing, many of us will live to fly in space. Some may even go to the Moon. Whatever our futures, we should remember the quality of the men and women who have gone before.
In memory of Pete, we should laugh along the way.
---
by Pam Hoffman
Photographs and illustrations NASA/JPL/Caltech.
The June launch of QuickScat was successful in every way, though it had been scheduled to launch November '98. No extra-terrestrial planetary mission could have stood the delays but this planetary mission could. The planet it was shooting for is the one which it launched from - the place we call home.
The planet Earth.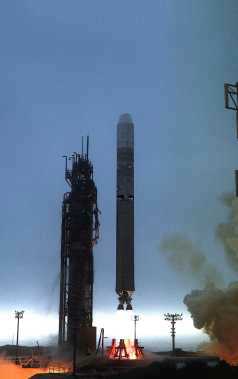 After multiple reminders and delays, we were finally going to try for the launch. From Torrance, it is about 4 hours to drive and of course another hour for minor sight seeing (finding lunch) and fueling up. Although we missed the mission briefing, we did get to visit the local Mission (La Purisima Mission State Historic Park).
The time arrives and everyone mulling about in sun (read heat) and we were loosely lining up behind the doors of the buses. Another hour on the road (it took forever to get the buses loaded) and we were at Vandenberg Air Force Base itself.
Increasingly foggy!
There was evidently an escort (I was on one of the last buses - hard to see anything) and at a snail's crawl, we wound our way to the observation site. There was a tent and water and a truck with momentos for sale and the monitors set up under the tent.
Finally, we watched the small launcher rise out of the Vandenberg "smog monster" into the overcast sky overhead.
All things considered, it was a trip filled with excitement and happy memories.
Mission Profile

The SeaWinds on QuikSCAT mission is a "quick recovery" mission to fill the gap created by the loss of data from the NASA Scatterometer (NSCAT), when the satellite it was flying on lost power in June 1997.
QuikSCAT was launched from California's Vandenberg Air Force Base aboard a Titan II vehicle in July 1999.
It will continue to collect important ocean wind data that was begun by NSCAT in September 1996.
The SeaWinds instrument on the QuikSCAT satellite is a specialized microwave radar that measures near-surface wind speed and direction under all weather and cloud conditions over Earth's oceans.
SeaWinds uses a rotating dish antenna with two spot beams that sweep in a circular pattern. The antenna radiates microwave pulses at a frequency of 13.4 gigahertz across broad regions on Earth's surface. The instrument will collect data over ocean, land, and ice in a continuous, 1,800-kilometer-wide band, making approximately 400,000 measurements and covering 90% of Earth's surface in one day.
Science Objectives
Acquire all-weather, high-resolution measurements of near-surface winds over global oceans.
Determine atmospheric forcing, ocean response, and air-sea interaction mechanisms on various spatial and temporal scales.
Combine wind data with measurements from scientific instruments in other disciplines to help us better understand the mechanisms of global climate change and weather patterns.
Study both annual and semi-annual rain forest vegetation changes.
Study daily/seasonal sea ice edge movement and Arctic/ Antarctic ice pack changes.
---
---