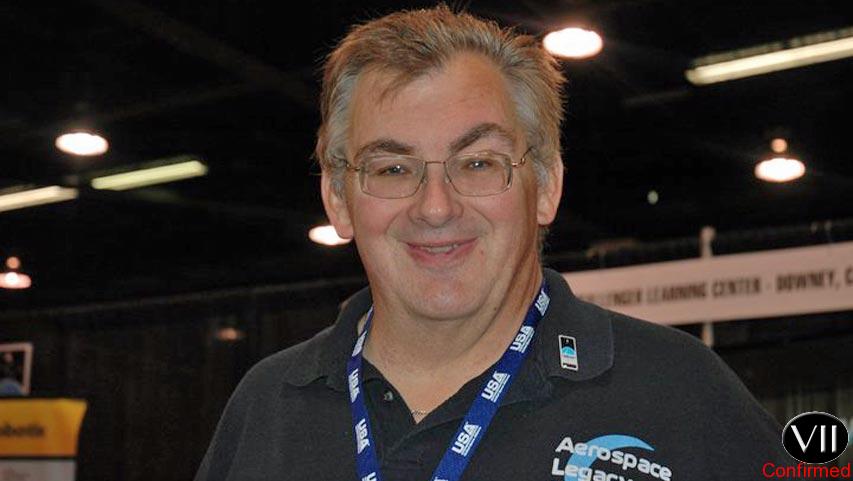 The space community has suffered a great and profound loss. James Milton Busby, a dedicated space advocate and historian,  and a great friend to many spacers and science fiction fans, passed away on June 1, 2016. Now Jim gets to go roam all the stars and planets and phenomena to which he introduced so many of us.
Mike Glyer, Hugo Award-winning editor and publisher of the long-running science fiction fan newszine File 770, graciously allowed the sharing of Jim's story:
—————————
Space flight historian James Milton Busby died June 1 after a lengthy hospitalization. He was 61 years old, and had suffered many health problems in recent years.
He is survived by his wife, Arlene, a longtime Los Angeles Science Fantasy Society member. They married in 2012.
James volunteered and consulted with the California Museum of Science and Industry in Los Angeles on the 1980 redesign of their aerospace museum. He was hired in 1984 as a museum assistant and was employed there until 2003. The museum awarded James with an Honorary Doctorate degree of Space Science Information.
He was part of the Organization to Support Space Exploration, the first group to do historical recreations of the Apollo Moonwalks. In 1979 they became involved with Rockwell International's speakers bureau in Downey, Ca. where James was master of ceremonies for the open houses and astronaut visits to the plant from 1979 until he plant closed in 1999.
In 1994, he assisted in the Universal film Apollo-13 and participated in the Tom Hanks-produced Apollo miniseries From the Earth to the Moon as a technical advisor, historian — and actor. He appeared as a "pencil tapping Lunar Module designer" in the fifth episode, "Spider."
James was employed in 1999 by the Space Frontier Foundation as Director for its International Lunar Conferences for two years.
He also worked in space suit sales and rentals at Global Effects in Hollywood.
He served on the History Committee for the American Astronautics Society, and frequently wrote for Space Times magazine and Apogee Publishers Mission Report book series.
In 2006 he joined XCOR Aerospace in Mojave, Ca, to rebuild their media relations.
Late in life he was part of the Aerospace Legacy Foundation of Downey, CA and had been trying to raise funds to represent ALF at Spacefest VII next week in Tucson.
---
The family would be grateful if you would make a donation in Jim's memory to continue his life's passion to educate and preserve space to the Aerospace Legacy Foundation.